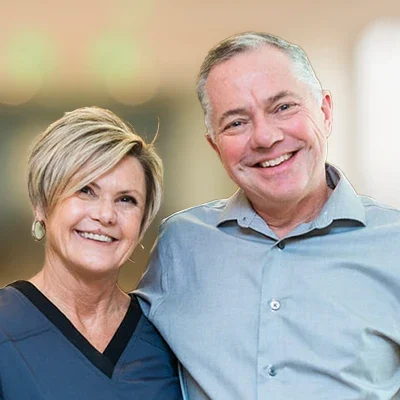 Chiropractor
TODD HOLUBITSKY, D.C.
Dr. Todd Holubitsky has practiced in Dahlonega since 1990. Originally from Winnipeg, Canada, he attended the University of Manitoba and graduated with a Bachelor of Science degree in Microbiology/Chemistry in 1984. He moved to Georgia and finished his Doctor of Chiropractic degree in 1987.
Dr. Todd and his wife Elaine have enjoyed providing quality healthcare and working together since 1990 here in Dahlonega.
Dr. Todd and Elaine both enjoy active lifestyles. Dr. Todd competes in Ironman Triathlon in addition to ice hockey in The Atlanta Amateur Hockey League while Elaine enjoys Bootcamp/Body Weight Training. In addition, they both enjoy nutrition and educating patients about a healthy lifestyle.
Chiropractic means "hands on". As a profession, we analyze and correct patients dysfunctional spinal segments. This can improve the communication between the spine and brain, influencing the accuracy of the brains inner reality! This translates to the comparison of a computer re-boot.
Dr. Todd considers it a privilege each day to share his passion and love for chiropractic to all ages young and old.
Dr. Todd Holubitsky has been voted to be one of the Top Rated Chiropractors in Dahlonega, GA.
CHIROPRACTOR
AUBREY MCBRAYER, D.C.
Dr. Aubrey McBrayer is originally from Cumming, Georgia. He attended the University of North Georgia and graduated with a Bachelor of Science in Kinesiology in 2018. He completed his Doctor of Chiropractic degree in 2021 at Life University in Marietta, Georgia.
Dr. Aubrey enjoys camping, traveling, and hiking with his wife Emily in their free time. Dr. Aubrey wants to help patients improve their health though Chiropractic care and by encouraging everyone to maintain an active lifestyle.
OFFICE HOURS
---
Monday
8:30am - 1:00pm
3:00pm - 7:00pm
---
Tuesday
8:30am - 1:00pm
3:00pm - 6:00pm
---
Wednesday
8:30am - 1:00pm
3:00pm - 6:00pm
---
Thursday
8:30am - 1:00pm
3:00pm - 6:00pm
---
Friday
8:30am - 1:00pm
3:00pm - 7:00pm
---
Saturday
9:00am - 12:00pm
---
Sunday
Closed